Riverside Community Garden
Riverside Community Garden is one of the oldest community gardens in Cardiff.  Based on Pontcanna Permanent Allotments, central Cardiff, it's a fantastic place to meet new people from all walks of life, learn about growing alongside our amazing, friendly volunteers and experience delicious veggies and wonderful wildlife up close and personal! The garden is a flagship centre for organic growing, permaculture, working in harmony with nature, upcycling and re-purposing materials.  It also prides itself on being a safe, friendly, welcoming space for people of all backgrounds, ages and experiences.
"The reason I attend the garden is to learn more about how to grow vegetables and fruit, do some worthwhile physical exercise and have some conversation with people other than my partner. We have a good laugh with each other and enjoy each other's company…everyone feels free to chat…and there are some who chat more than others!!" (Riverside Community Garden Volunteer)
Frequently Asked Questions
How do I find the garden?

The garden is located on Pontcanna Permanent Allotments, CF5 2YB, close to Pontcanna Fields, near the city centre.
When can I visit?

Visitors and volunteers are welcome every Wednesday and Friday throughout the year from 11am – 1pm. We are often open on the first Saturday of the month too. To arrange a visit or ask about volunteering email: Riversidecommunitygdn@gmail.com
Who can come?

Everyone!  The garden welcomes people of all ages and backgrounds. You don't need any previous experience of gardening to visit or volunteer.

Please note children are welcome, but anyone under 18 years of age must be accompanied by an adult.  Vulnerable adults or adults needing one-to-one support are welcome to attend, but please note the garden is not able to provide individual support and therefore adults requiring individual support must attend with a carer/family member.  The garden welcomes people of all abilities.  Please note some paths around the site are woodchip and uneven in places. Seating is available in the garden shelter.

Groups are welcome to visit and we often host corporate days, student visits, etc.  Please note group visits must be pre-arranged. Please email riversidecommunitygdn@gmail.com for more info.
Is there a charge?

There is no charge to visit or volunteer. However, we do have a donation box and very much welcome donations! The garden does not receive any funding from the local authority. All funds are raised through donations and fundraising with support from Grow Cardiff.

The project makes a small charge to corporate organisations who wish to bring a group of staff for well-being and volunteering days
What should I expect?

Riverside Community Garden is an amazing place! The site includes:

A large vegetable and fruit garden
2 large polytunnels
A large garden shelter (for up to 20 people)
Apiary (honey bee hives)
Large pond
Compost area
Compost toilet (toilet roll ✅, hand sanitiser ✅)
Cob Oven
Herb garden
Visitors and volunteers are most welcome to sit, chat and have a cuppa with the team
Regular volunteers take delicious, organic produce home with them throughout the year
"We've been reaping the benefits over the past few months by being able to take home lots of lovely fruit and vegetables that we've grown. I think this has helped to give us a sense of achievement, by showing us that although times have been difficult …we should focus on the things we can do rather than what we can't"
Volunteer, Riverside Community Garden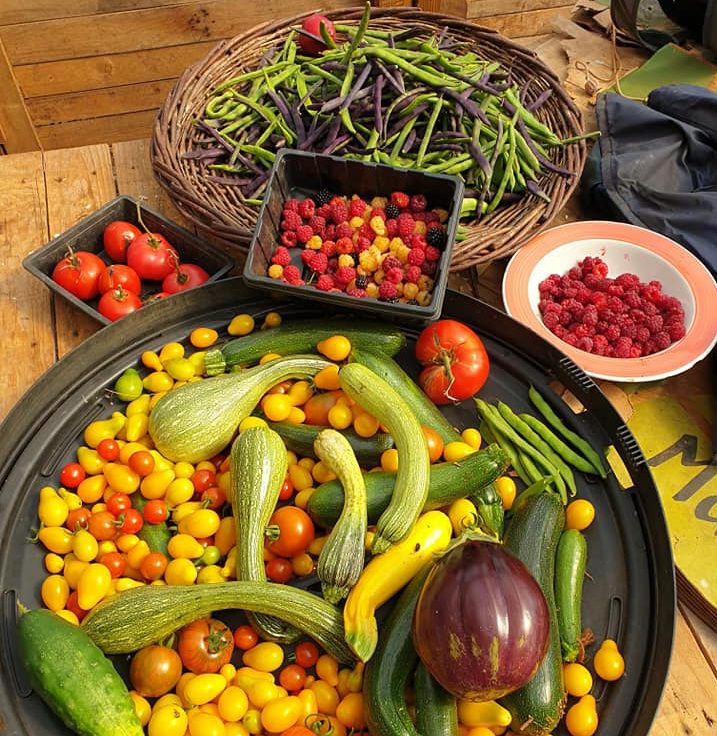 Bees at Riverside Community Garden 
Do I hear a buzzin'?  Yes! The garden aims to be as wildlife friendly as possible and our bee keeping team care for the garden's honey bees throughout the year.  The site includes a fenced apiary (bee hives) which visitors and volunteers are welcome to find out more about.  The bee keeping team meet regularly and welcome anyone who might be interested in joining the team, to get in touch, whether you're experienced or just curious:  beesriverside@gmail.com
Get in touch or book your visit!